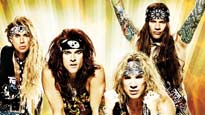 Las Vegas
07/13/2013 23:30:00
Steel Panther
ARTISTS AT THIS EVENT
Steel Panther
House of Blues Las Vegas
3950 Las Vegas Blvd Las Vegas, NV 89119
EVENT INFO:
Live Entertainment Tax (L.E.T.) Included in ticket price.
No cameras, wallet chains & studded belts or jewelry.
For 18 and over shows: Patron's must be 18 and over with valid I.D. to gain entry to venue.
It is the Patron's responsibilty to check and abide by posted age limits when purchasing tickets.
FIND TICKETS AT
LIVENATION.COM
PARKING
{
YOU MAY ALSO LIKE
Kirk Franklin presents Gospel Brunch at House of Blues (LV)
New Age and Spiritual
Kirk Franklin presents Gospel Brunch at House of Blues (LV)
New Age and Spiritual
WALK THE MOON - TALKING IS HARD TOUR
Rock and Pop
Kirk Franklin presents Gospel Brunch at House of Blues (LV)
New Age and Spiritual
Kirk Franklin presents Gospel Brunch at House of Blues (LV)
New Age and Spiritual
Kirk Franklin presents Gospel Brunch at House of Blues (LV)
New Age and Spiritual